Thursday 5th to Sunday 8th September 2019 821 miles
Day 1 - Leeming Bar Motel to Llandudno (233 miles)
Kodi and Ian had volunteered to organise this NAB trip to Wales, having changed any original ideas of venturing over to Ireland – I think logistically it was just going to be much easier avoiding having to book any ferries and the cost would have bumped the overall price up quite considerably.  Hopefully there will be a trip to Ireland another year as I've been over there myself with the Boundary 500 Group in the past and the roads and the people were just great. 
Our initial meeting place was Leeming Motel at 09:30 on the Thursday morning and nine members were greeted with some very welcome warm and dry weather.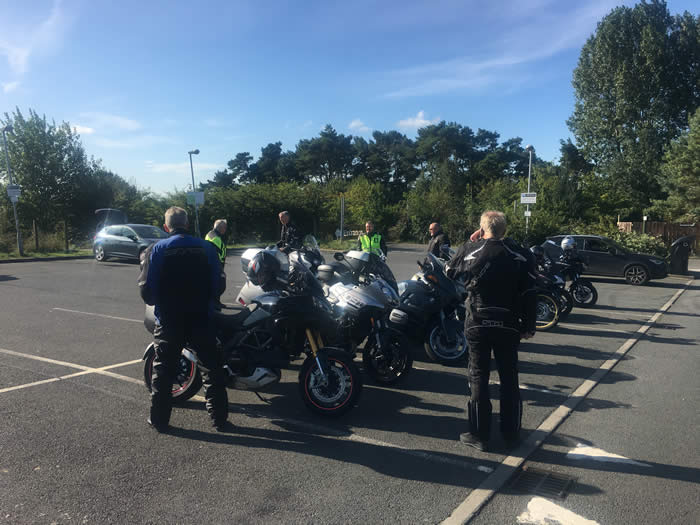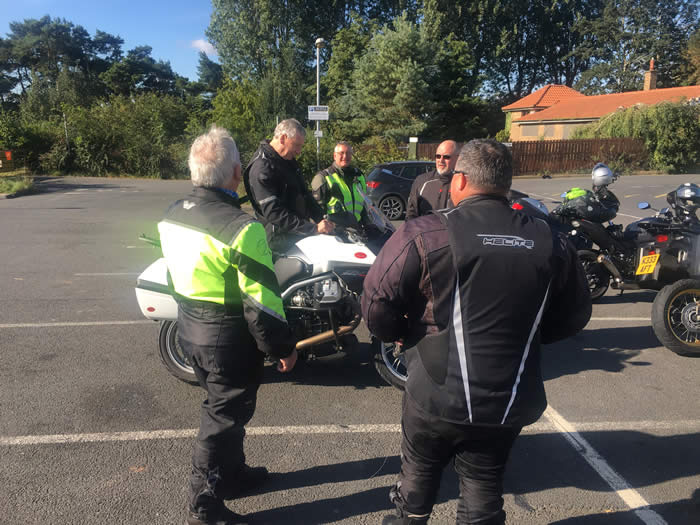 Kodi gave a quick briefing before we departed.  As well as finding and booking the accommodation for everyone, he had kindly prepared routes for the four days on MY Route App and emailed round the details so we could all load the data on our sat navs.  I did have some initial feedback in that with approximately 100 way points for the first day, from exerience I just didn't think my sat nav would cope with so many so Kodi had reduced this down to 48.  This is possibly down to the fact that my sat nav is quite old – perhaps I need to replace it?  My previous experience of using the software and planning routes down to the south of France and back led me to believe that using as few way points as possible and really zooming in close to get a good position set was the best option to avoid continually being sent round in circles.  Time would tell whether we would all be able to stick together as a group and arrive at Llandudno around the same time at the end of the first day.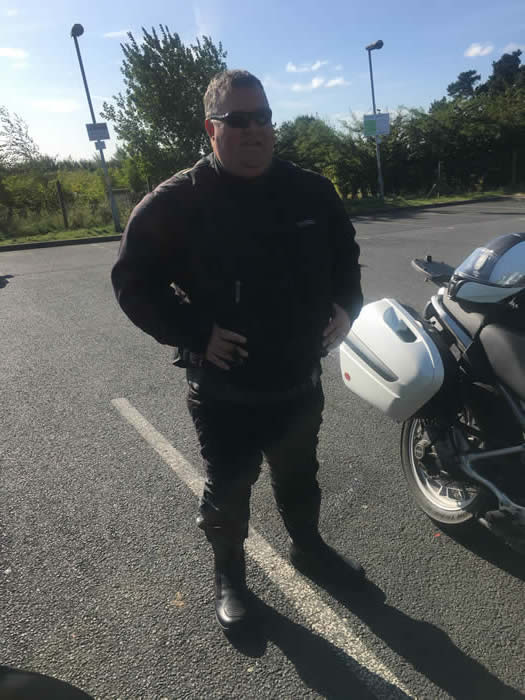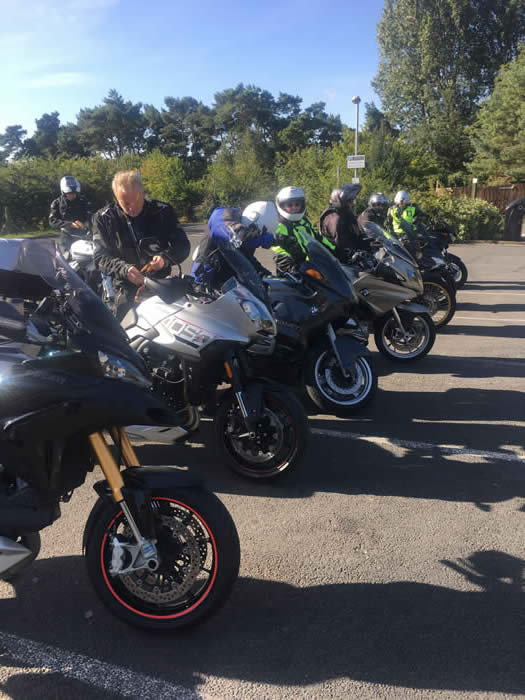 Some of our initial roads over the Yorkshire Dales were very familiar to me, through Pateley Bridge and then down to the A59 at Blubberhouses and we had a lunch stop planned at Grindleford Station Cafe in the Peak District to look forward to.  Unfortunately however,  whilst trying to make progress through West Yorkshire I lost the group and never did make it to the cafe.  My sat nav was sending me all over the place and I somehow ended up on the M62 at Hartshead Moor Services, in heavy traffic having done quite a few miles of filtering.  After a quick break I set off west but was soon in heavy traffic again so decided to leave the motorway at the first possible exit, which happened to be towards Huddersfield.   With my sat nav still playing up I was guessing where to head for next but I remember feeling so frustrated that four hours after leaving Leeming  I was still in Yorkshire.  Although the roads now were more scenic than the M62 the traffic was still really heavy as I headed along what I think was the A628 and towards a horrendous junction of roads which just held me up for a very long time.  But at least I could see a little light at the end of the tunnel, some signs for the M67.  I had by this time abandoned Kodi's route and just entered Llanudno, our destination for our first night, into my sat nav.  I managed to join the motorway system at long last and began to make much better progress and was soon on the lovely A55 along the north coast of Wales. 
Eight of the group made it to the lunch stop at Grindleford Station Cafe – unfortunately yours truly didn't so Kodi got the guy third from the right to stand in for me!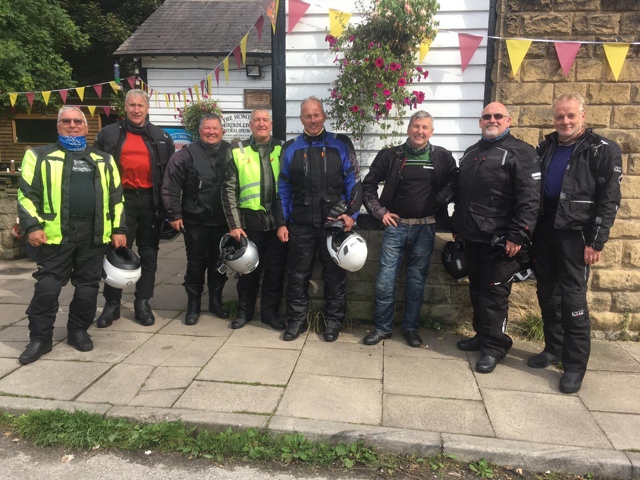 It was 18:30 before I reached our hotel at Llandudno, the Grand Hotel.  Amazingly, and as quite often happens on NAB trips, both home and abroad, we all seemed to arrive around the same time, albeit in small groups or as individuals rather than in one group all together. It didn't bother me in the slightest, I had arrived at the hotel and I could see some familiar bikes and faces which was all that mattered.  The journey to Llandudno had been a bit of a nightmare for me but that was all forgotten as I unpacked my luggage and headed for reception.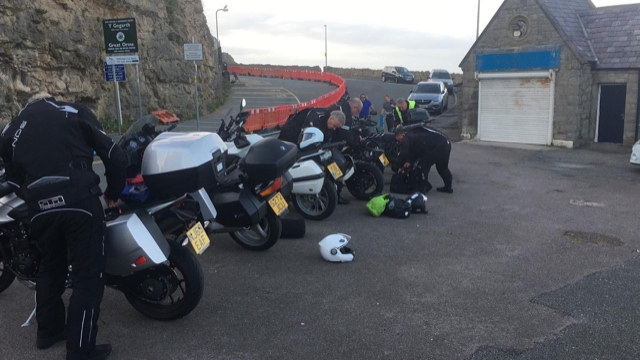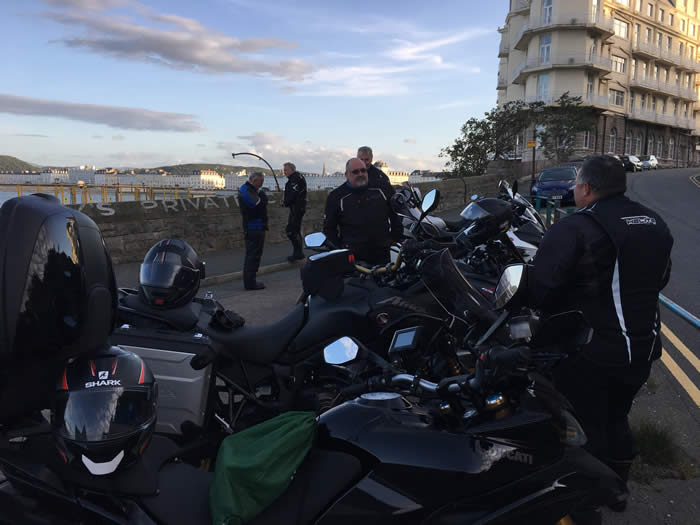 The hotel itself may have been grand in its day and was still reasonably impressive from the outside but it was certainly a little dilapidated inside at the time of our visit.  No complaints whatsoever though and my room was fine for one night. After a quick shower we all met up in the bar for a few beers before venturing out into Llandudno in search of food. The aromas from an Indian restaurant not far away soon drew us in for a very enjoyable meal and a few more beers.
There were lovely views across Llandudno Bay from my bedroom window.
Day 2 - Llandudno to Aberystwyth (211 miles)
After a pretty average buffet breakfast Kev and I had a quick walk outside to check that the bikes were all ok and we hadn't received any parking tickets (apparently we had parked in a public car park but fortunately none of us had a ticket). 
This hungry fellow was probably used to being fed by some guests and had been along to see Bob at his window earlier but he wasn't having any luck this morning.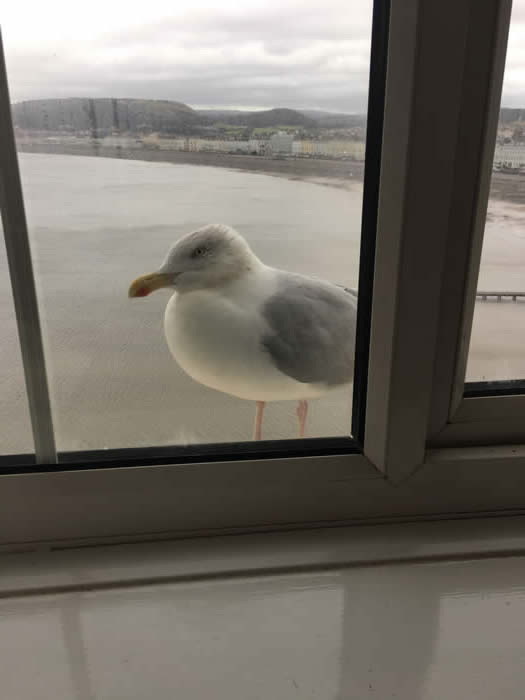 Kev, organised as ever, all ready for the off.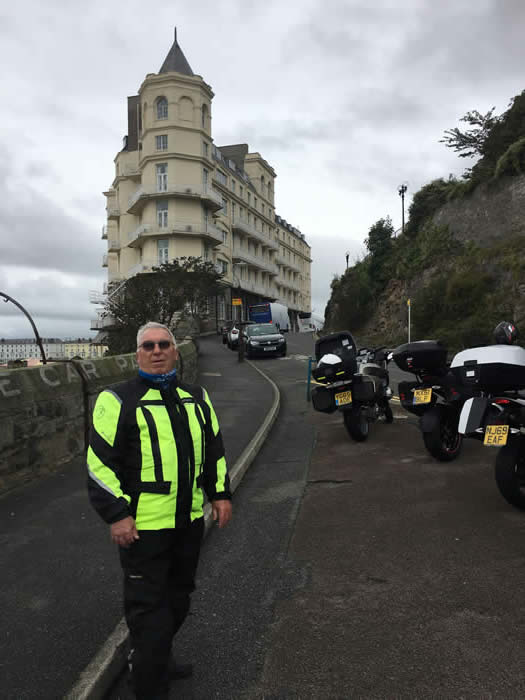 Last to arrive, our Chairman Bob Bissicks, casual as ever.  And why not – Bob put's so much effort into ensuring he NAB European Trips go well that he deserves to relax a bit and let others take the strain a little when we venture out closer to home.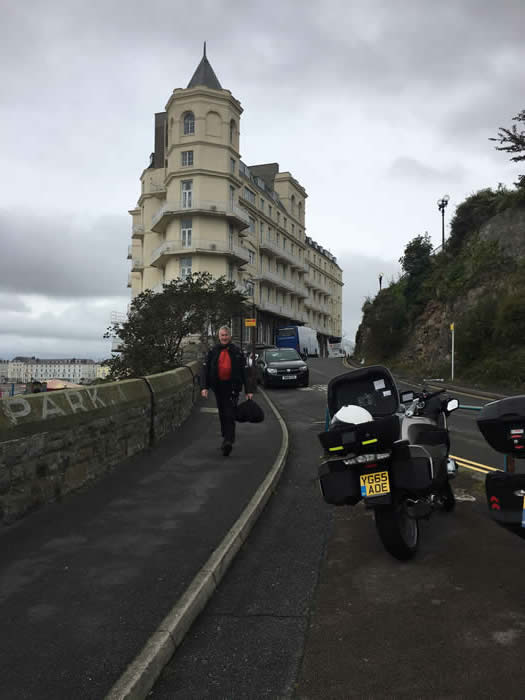 There was a choice of initial routes from the hotel this morning with the option of taking a small toll road round the head of Great Orme's Head and I'm so glad we decided to take this route as we enjoyed great views across the Irish Sea, plus we were quite early in setting off so we had no toll to pay!
We headed off for Aberystwyth in overcast conditions and this soon turned to drizzle. After about an hour some of us were needing a fuel stop and having done this we were soon on our way again, but still in light rain.  Unfortunately we somehow managed to lose Stephen as we left the fuel station as I think we set off too quickly with him still getting his wet weather gear sorted.  It was still wet as we reached Caernarfon for a welcome morning coffee stop at 11:00.  Dave had made a successful effort to contact Stephen and it wasn't long before he rejoined us.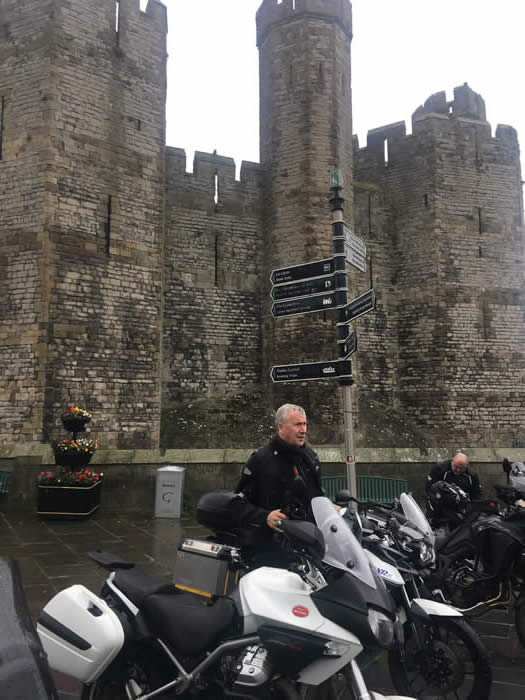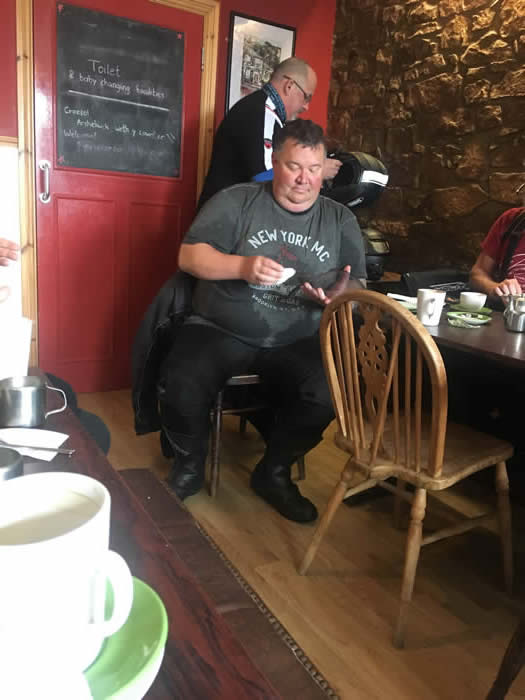 From Caernarfon our route headed along the coast towards the Lleyn Peninsula and then back inland towards Porthmadog and down the western side of the Snowdonia National Park.  Before another venture back inland and away from the very scenic coastal route, Kev, Dave and I found ourselves together in the very pleasant seaside coastal town of Harlech, noted for the song Men of Harlech said to describe events during the siege of Harlech Castle in the fifteenth century. 
It was 14:00 and we found a lovely little cafe with very friendly staff and a nice courtyard where we sat in the sunshine enjoying lunch. 
A couple of hours later and we had a quick break at Llanegryn before heading for Aberystwyth, our destination for the night.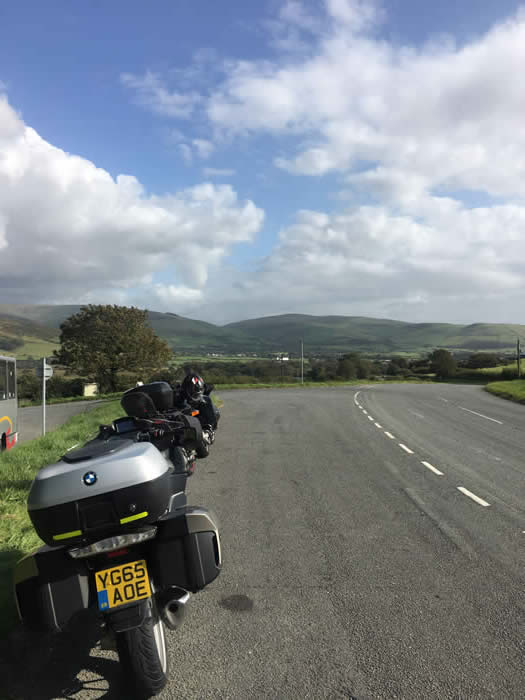 We subsequently arrived at the Marsden's Starling Cloud hotel in Aberystwyth at 17:30 – perfect timing.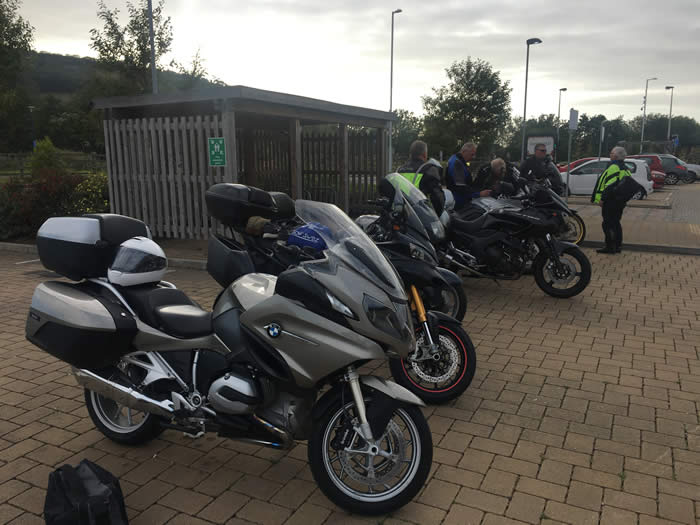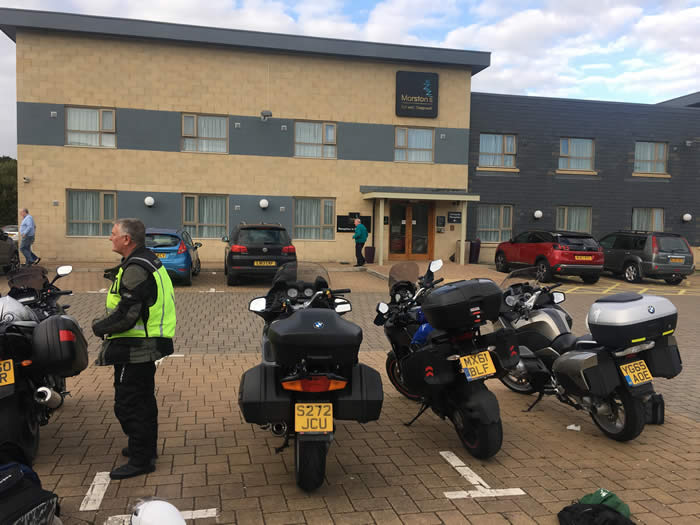 The hotel was part of a national chain but perfectly adequate for our needs.  Kev and I headed for reception and our rooms and a welcome shower before heading for the bar where most of the others seemed have gone directly. 
Sure enough, when Kev and I joined the rest of the team they had already had a few beers but they started to get themselves together when talk of food surfaced. 
Unfortunately, when Martin got to his room he found that it hadn't been cleaned or made up so he was unable to get showered and settled in until that was sorted and it seemed to be taking quite some time for the hotel staff to make things happen. 
Fortunately for Martin, and as it turned out later for the rest of us, Kodi is an expert when it comes to customer satisfaction and getting poor service resolved and compensation made.  I think he must have given the duty manager quite a hard time but Martin finally got his room sorted, probably by the poor duty manager himself, a full refund of the room cost (which he very kindly shared amongst the team the following evening to pay for drinks) and all our team got an additional discount off our food bills later on.
After a half decent, nicely subsidised meal Kev and I had a walk into the Centre of Aberystwyth for an hour or so before heading back for an early night.
Day 3 - Aberystwyth to Builth Wells (243 miles)
The weather this morning was again sunny and dry for our route further along the coast to Saint Davids and then back inland towards the Brecon Beacons and the Black Mountains.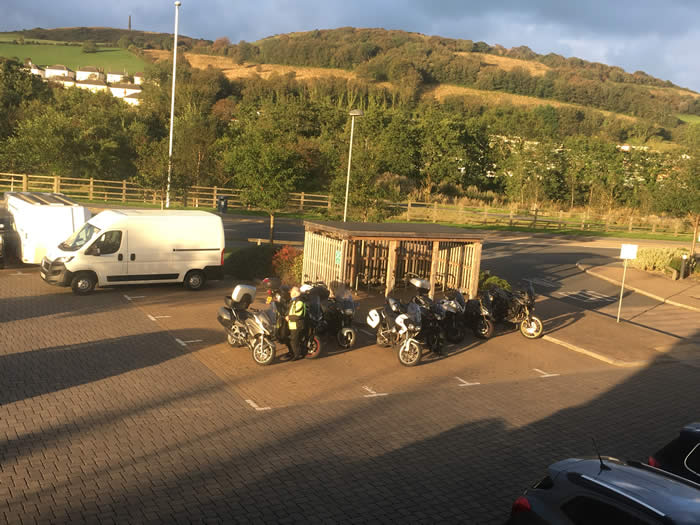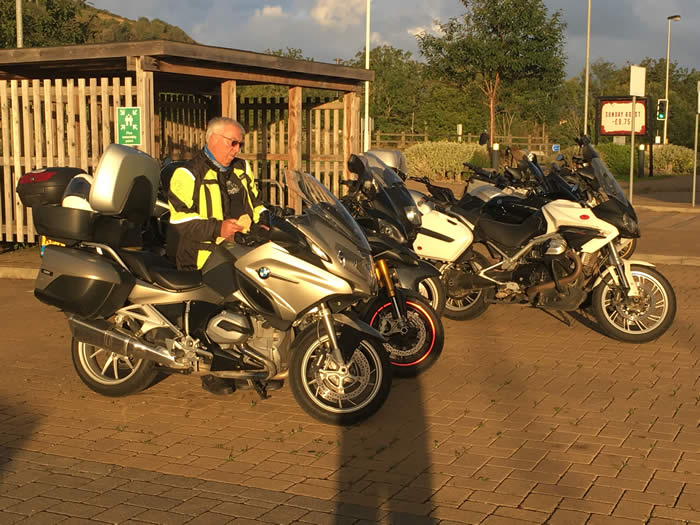 I'm sure Kodi had done his utmost to plan a great route for today but just as we seemed to be heading along a decent road we would take a detour along a narrow, twisty, steep, damp, gravel covered  lane with no views, which wasn't really my idea of fun and at some point, together with Kev, we decided enough was enough and we were going to stick to the main roads, ignoring the sat nav route.  The original route did get us to a small housing estate just above Fishguard however, and we were soon able to rejoin the rest of the group for coffee in this very pleasant fishing village at around midday.   
For some reason we never made it to Saint Davids, which was a shame, but we did make it to the very pleasant coastal village of Nolton Haven that looks out across St Brides Bay.  Here we ordered lunch and enjoyed a nice relaxing break for about an hour in the sunshine.
Having lost the main group again I arrived with Kev at the Caer Beris Manor in Builth Wells at 18:00 and we were just blown away with our accommodation for the final night of our trip, a real bonus.
I'd been allocated the Gun Room which was ever so slightly unnerving to start with but I very quickly got used to the idea once inside.  What a wonderful room with a four poster bed, and an excellent en suite.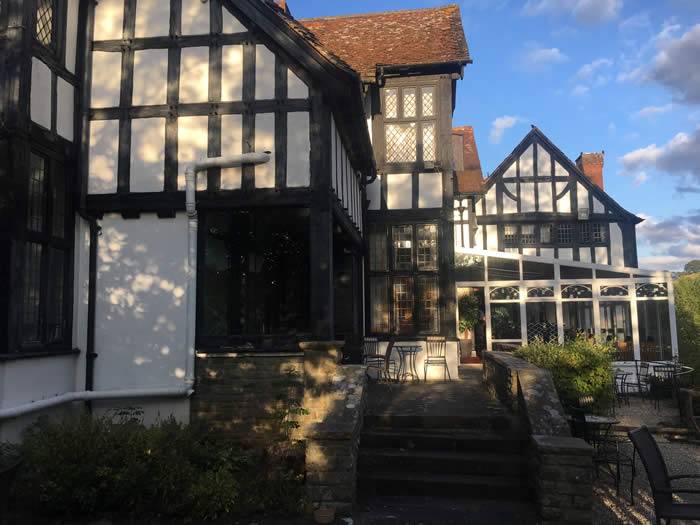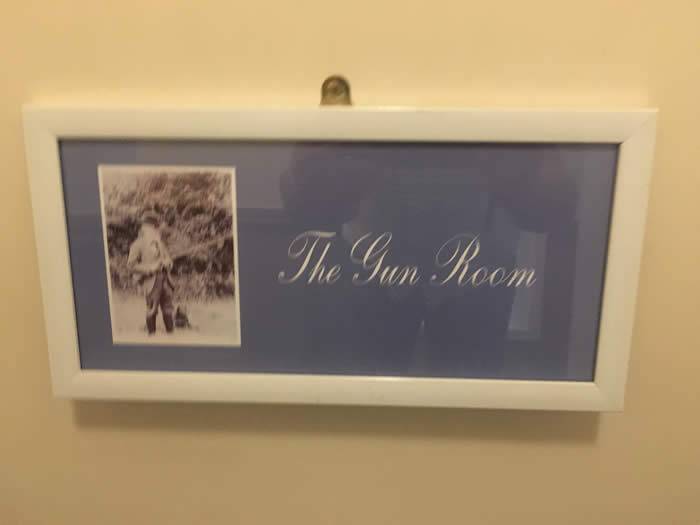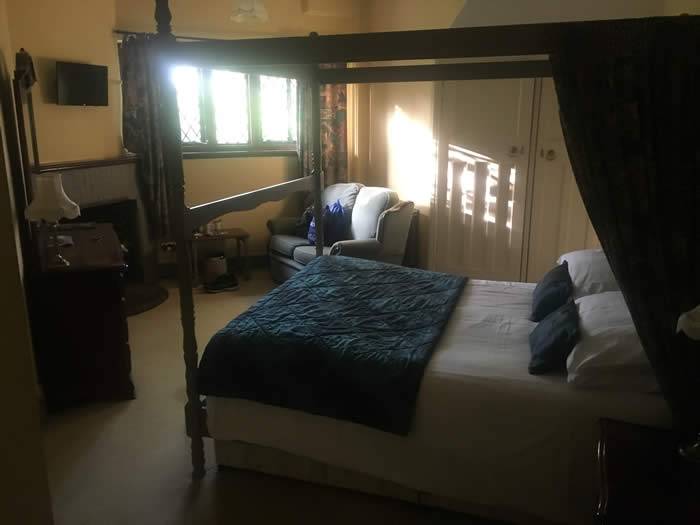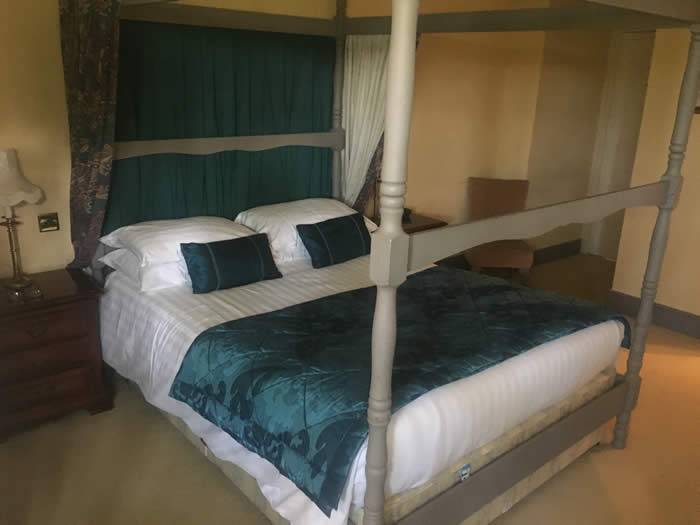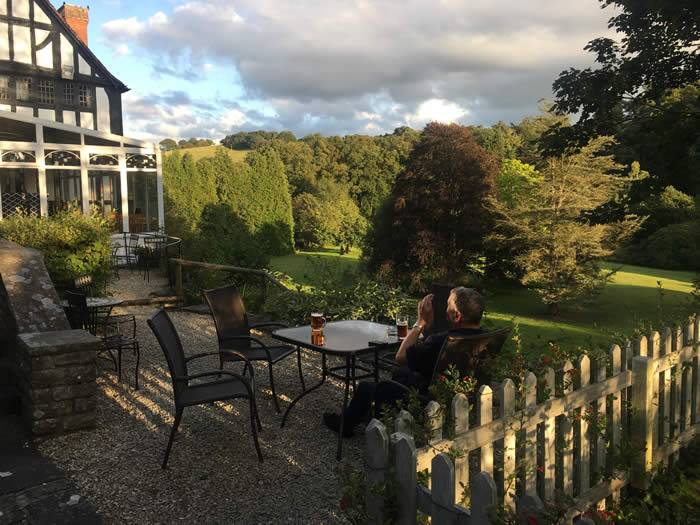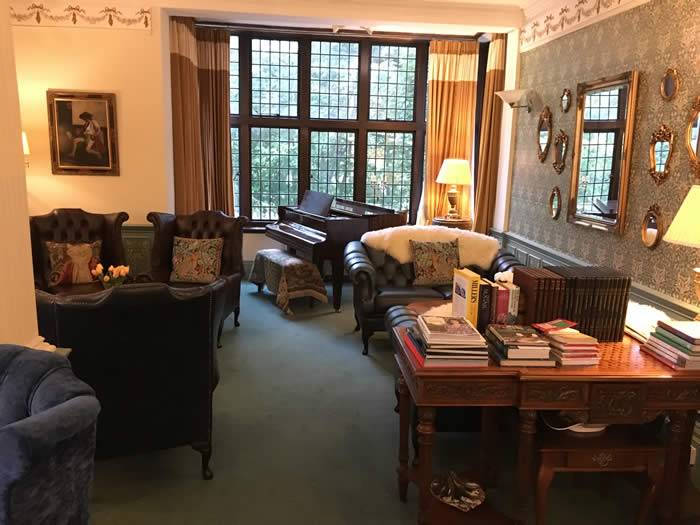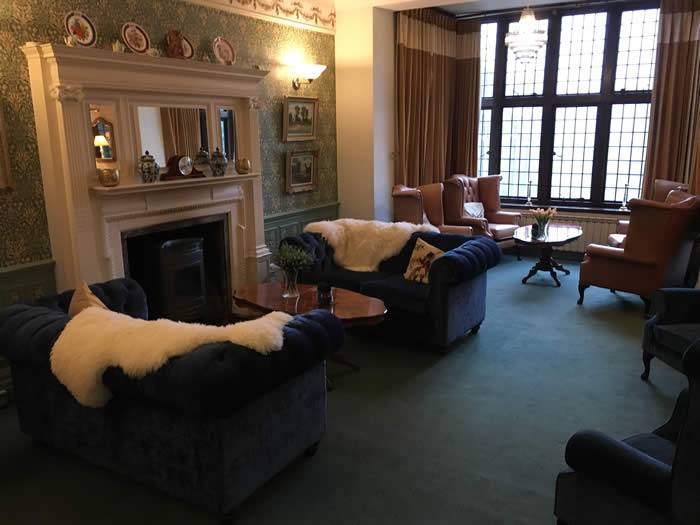 The hotel had fairly recently been bought and taken over by an Egyptian family and our host Omar just couldn't do enough for us.  The grounds were extensive and very pleasant and the building itself had so much history. There was talk of possibly walking into the town centre to seek out food but these were quickly quashed and we all enjoyed a lovely meal in the hotel restaurant.  It is somewhere I would definitely like to return to in the future but I can only imagine the the cost will will be much greater than what we were paying as the overall refurbishment of the hotel continues. 
Day 4 - Builth Wells to Home (221 miles)
It was quite a cold start in the morning as we posed with our wonderful host Omar after a very enjoyable stay at the Caer Beris Manor.
I had a quick stroll round the grounds after an excellent breakfast to try and capture the tranquility of the extensive hotel grounds.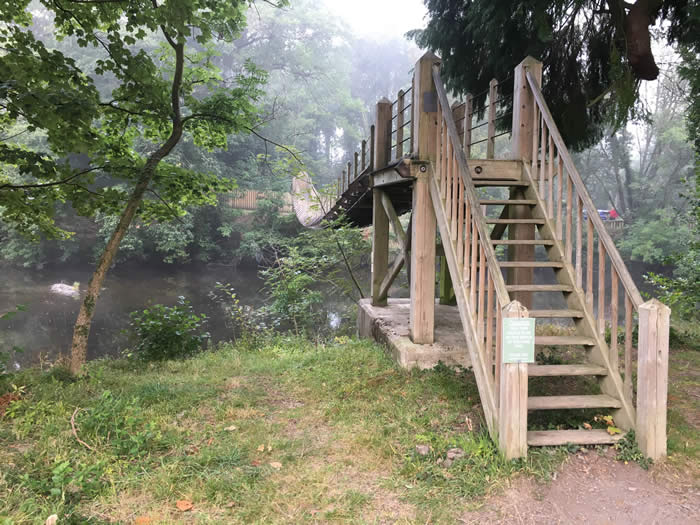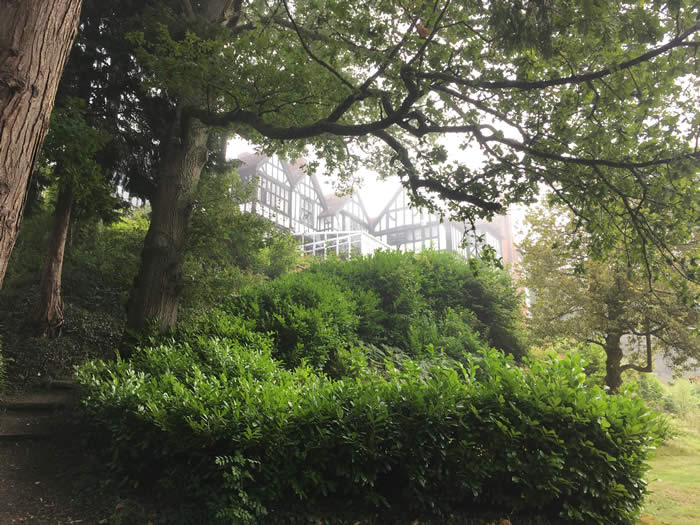 Our route today looked fairly straight forward, basically up through the middle of Wales and, according to Kodi, just choose your own way home after that.  We were soon on the A483 and heading for Llandrindod Wells, Newtown and Welshpool and I thought this provided some of the best riding on the whole trip.  Here is Kev enjoying a mid morning coffee at a garden Centre in Welshpool.
We had to do some filtering to quickly get past the building Sunday traffic as we approached Wrexham and then Chester but good progress was being made towards home.  We also had to crunch a few motorway miles and at some point we lost Stephen but I was aiming for Preston and the A59 as quickly as possible. 
I was with Kev and Stuart at this point and Stuart recommended The Whistle Stop cafe on the A59 for a mid afternoon break, which is where we stopped.  While we were waiting for our order to arrive Dave rode into the car park only to ride straight out again which was odd.
I arrived home safely at 16:00 after another great NAB trip in great company.  I definitely want to return to Wales to ride some of the no doubt great roads that I missed this time round so will really look forward to that one day.
Many thanks go to Kodi and Ian for putting so much effort into organising everything in order to make it another very successful NAB Trip.