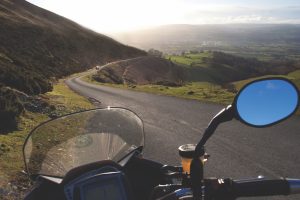 About Us
Northallerton Advanced Bikes was established in June 1998 to promote advanced motorcycle training facilities in the Northallerton, Thirsk, Catterick, Richmond, Yorkshire Dales and the A66/A1 corridor areas, and for bikers who find our meeting venue in easy reach.
Our primary purpose is to encourage riders to undertake advanced training and become safer and more competent riders. Most of all, we want to enable people to enjoy their motorcycling more by increasing their own confidence.
We are affiliated to the Institute of Advanced Motorists "IAM RoadSmart" and we provide training to enable members to pass the IAM motorcycle test, offering opportunities for continuous improvement thereafter.
The membership is made up of people from all walks of life, riding a wide range of machines from sports bikes to cruisers, all of them sharing the same desire to improve their skills and abilities, and to enjoy their bikes to the full.
Training
On joining the group as an associate you will receive the IAM RoadSmart training package and you will then be allocated an accredited trained 'Observer' who will provide one to one personal training to bring you up to the standard of competence required to pass the IAM Advanced test. There is no set limit on the number of training sessions offered and although 6-8 is typical, we will provide as many as you and your Observer feel you need to reach the standard.
The aim is to tailor the training to suit individual needs and is undertaken at times that are mutually convenient. The cost of the IAM RoadSmart Advanced Motorcycle Training covers all the sessions, however, because Observers give their time for free they may ask for a small donation towards their fuel costs.
Members who have passed the advanced test may undertake further training to become IAM Local or National Observers. Details of all the further training opportunities can be seen by clicking on the relevant links.
Social Activities
The club meets once a month at Coore Arms, Station Road, Scruton, (near Northallerton), on the last Thursday of each month at 7.30pm. During the summer months we usually arrange an evening ride-out that might start a bit earlier.
Club nights offer a chance to chat with like-minded bikers and we often have guest speakers. The club also arranges weekend rides and away trips.